Local Land Services NSW (LLS) recently launched a 'back to basics' training session for new Cucumber growers wishing to develop skills in basic hydroponic growing techniques. The intent of the session was to explore the various areas that growers would need to consider when looking to commence hydroponic growing in a low to medium-tech facility.
The training itself was conducted in a semi-formal setting on the property of Coffs Harbour grower – Cheyne Clarke, and was delivered by industry trainer Tony Bundock of Genesis Horticultural Solutions who is also a PCA board member.
Topics covered in the training were:
Water quantity and quality
Components of a hydroponic system
Open and closed systems
Dosing systems and equipment
The relevance of EC and pH
Conducting a titration test
Conducting a uniformity distribution test
Measuring run-off percentages and their importance
Media types and irrigation
Irrigation using time and/or radiation sum a trigger for irrigation
The session itself was able to combine theoretical concepts with real-life experience as Tony and Cheyne guided the participants through the topics. Supporting the discussion were some accompanying notes that highlighted the various areas, and the participants were able to take these home to assist them back on their farms.
'Having the ability to run training on a working enterprise really helped the participants to gain a firm understanding of the various concepts being discussed' said LLS representative and PCA Chair – Matthew Plunkett. 'It was great to be able to conduct Titration and Distribution Uniformity tests of Cheyne's active system so that the participants could see exactly how these activities are carried out. We hope to repeat similar training sessions in other areas going forward.'
The session concluded with a lunch and all participants were given EC and pH testing kits to take away so that they could utilize these on their farms.
Going forward, LLS have agreed to facilitate a protected cropping interest group where growers can learn and network with members of the industry – which PCA will be supporting.
The accompanying notes issued to all participants also contained templates for conducting titration and uniformity distribution testing 'on farm'. These notes will be uploaded to the LLS website at https://www.lls.nsw.gov.au/ for anyone to download. Alternatively, these can be emailed to you on request by emailing Tony Bundock at  tony@genesis-hort.com.au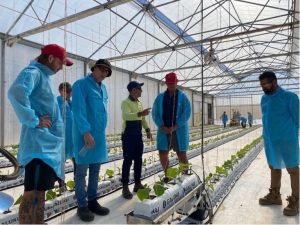 Growers discussing the use of a drain tray with Cheyne Clarke
Practical observation of crops and setting up of uniformity distribution tests