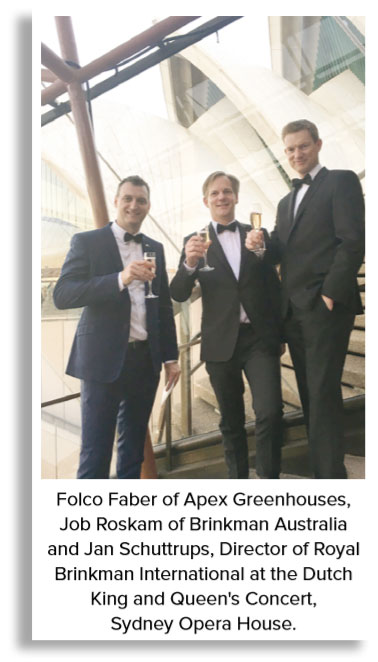 It is just over 400 years since Dirk Hartog dropped anchor off the Western Australian coast, and recorded the first European landing by placing a plate on a post.
Some would say he should have planted a flag, and we would all now be speaking Dutch, not English!
To celebrate this anniversary, the Queen and King of the Netherlands visited Australia which coincided with a substantial Dutch Trade mission to Australia visiting Adelaide, Melbourne and Sydney.
As part of this mission, Rabobank held the Farm2Fork event in Sydney, providing a platform for start-ups in food and agriculture to pitch their innovative business models.
PCA Chair Robert Hayes attended the Cockatoo island, Sydney Harbour event on November 3rd and spent the morning meeting with six major Dutch companies involved in Protected Cropping.
All are keen to explore or further develop their presence in the Australian market.
All see significant opportunities here, and as a base for servicing into the Asian Pacific markets to our North.
These companies include Certhon, Taks Handling, Van Dijk Heating, Svensson and Hoogendorn amongst others.
Courtesy of Job Roskam your Chair was also able to pass on our thanks to Jan Schuttrups, Director of Royal Brinkman International for agreeing to make a significant investment in partnering with PCA for the Apex Brinkman 2017 Conference.