Thoang Trinh – DepTrin Greenhouse Tomatoes and Cucumbers on Victoria's Bellarine Peninsula
Last year we visited the greenhouses of Thoang Trinh for a farm tour we attended with the Hydroponic Farmers Federation.
Just look at the quality of his plants and produce! This farm grows plants hydroponically in a free-drainage system under the protection of poly tunnels.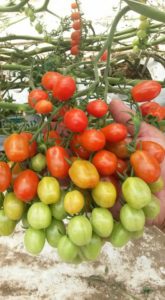 Everyday the water quality is tested to ensure the pH balance is correct and the nutrients levels are perfect.
This dedication from Thoang is why his cucumbers have the just the right crunch when you bite into them, and why his tomatoes are a beautiful blushing red that just cries out to be devoured – remember those stories you would hear from the 'old days' about how the juice would run down your face and the taste was so natural and sweet back then? Well, Throngs tomatoes will have you telling the same stories!
It's not often you are allowed to roam free in a farmers greenhouse and we all had a great time sourcing out the young cucumbers dangling above our heads and tasting his truss tomatoes.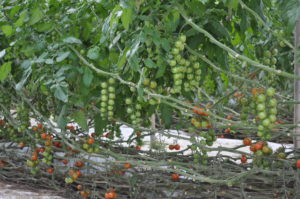 Keep your eyes out for Thoangs produce, what isn't sent off to market, is filling fresh produce boxes for his wife Karen's business, Wholesale 2 U. They sell mixed boxes of produce that are delivered around Geelong and Werribee.
For more details on ordering your own veggie box head to: https://www.facebook.com/Wholesale-2-U
Did you know that all truss tomatoes grown in Australia are grown in a greenhouse?
GROWS: Cucumbers, Tomatoes, and Cherry Tomato Medley