Tassie tour gets thumbs up
by Jennifer Stackhouse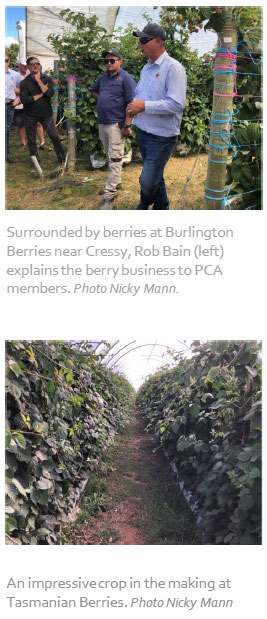 More than 50 members of PCA, including members from New Zealand and all states of Australia, descended on northern Tasmania for a two-day tour of some of the state's leading growers in February. Dinner at the award-winning winery, Josef Chromy Wines at Relbia near Launceston, was a big drawcard.
Berries on the menu
Fresh berries are undergoing a production boom in Tasmania with a sevenfold increase in berry production during the past five years. During the tour delegates visited Tasmanian Berries and Burlington Berries.
Tasmanian Berries is a family-owned farm that produces berries for Driscoll's Australia. The berries are produced undercover on sites at Exton and nearby Elizabeth Town. Harvesting runs from November to late May in this part of Tasmania's Meander Valley. The Exton site has recently undergone a $3.4 million expansion and now has 33ha of covered growing space.
Further inland is Burlington Berries (burlingtonberries.com.au), a large independent berry producer at Cressy. Once known as a major wheat growing area, Cressy has diversified with potatoes, poppies, vegetables and berries.
Burlington's 35-hectare farm produces soft fruit in long poly tunnels and grows mainly for Driscoll's. Harvesting runs for seven months from late spring.
Robert Bain, Soft Fruit Manager at Burlington Berries, explained that one of the limiting factors for their business expansion is accommodation for pickers.
"Having at least seven months of picking allows us to invest money in training," he said. "We really need more lower-cost accommodation for backpackers and seasonal workers in the region as the guys are really struggling to find accommodation and we are getting less workers because of it."
Great climate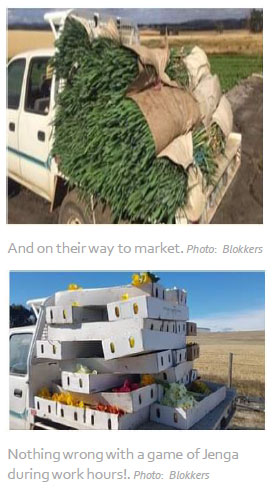 Visitors from Queensland, northern New South Wales and Western Australia may have found Tasmania's late-summer weather a little chilly despite the warm sunshine.
However, flower grower Maartin Blokker from Blokker Freesia at Wesley Vale near Devonport, said the area had the ideal climate for growing freesias with an annual temperature range from around 0C up to no more than 26C due to the areas proximity to the coast.
"It is probably one of the best places on earth to grow freesias," he claimed while welcoming the group to his high tech farm. The only other contender for the title would be parts of California he added.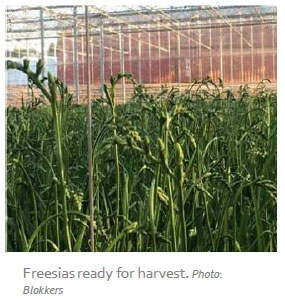 Maartin and wife Marianne established the business around 20 years ago.
As well as freesias, Blokker also grow Dutch iris and calla lily (zantedeschia) in large glasshouses with some outdoor growing. Almost all the flowers are sent to the mainland wholesalers. The business also grows freesia bulbs for export to Europe.
Bass Strait bound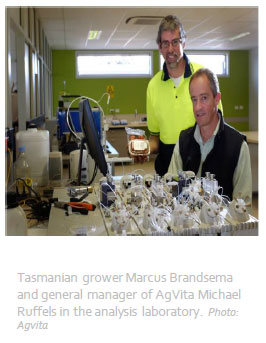 Dealing with the tyranny of distance is the main challenge for producers in Tasmania particularly when fresh produce has to reach mainland market. For analytical lab Agvita Analytical, however, the path goes the other way as they deal with plant, water and soil samples from growers Australia-wide coming to Tasmania.
Despite the business's location near Devonport, General Manager Michael Ruffels said they offer next day results to growers in most parts of Australia if the samples are sent via Express Post.
While all types of plants are analysed at the lab, which employs 12 to 13 trained staff, the top four are potato, grape (both wine and table), strawberry and watermelon.
Michael said the most important factor for growers sending samples to the lab is to get the correct sampling material whether it is plant, soil or water and to send an adequate amount.
"We are happy to outline what's needed, depending on the testing we are doing," he added. Although most tests require very little material he added that it is important to send a representative sample. PCA members receive a discount on Agvita services.
Tomatoes are tops
While the climate of Tasmanian's north may be spot on for freesias, the story isn't quite the same for tomatoes. Tomatoes have a fairly short growing season in Tasmania, which has cold winters and a short, cool to mild summer. Just west of Devonport at Turners Beach, is one of Tasmania's largest tomato producers, J & A Brandsema.
The family-owned company produces glasshouse-grown tomatoes for Coles, Woolworths and independent retailers throughout Tasmania. While the company's focus is on its local market, excess cherry and other tomatoes are exported to the mainland.
"With so many Tasmanian home gardeners harvesting their own tomatoes in late summer we usually see a drop in local demand at this time of the year," said Marcus Brandsema, but mainland consumers are happy to snap up the Tassie-grown produce.
As well as tomatoes, Brandsema also produces capsicum, chilli and eggplant. Eggplant production however was halted during 2018 when fruit fly was discovered in nearby Spreyton.
The Turners Beach area fell into the exclusion zone, which meant that special restrictions were enforced at the farm before crops could be moved off site.
These included fumigation and cold treatment, which is unsuitable for eggplant. With northern Tasmania having regained its fruit fly free status, Marcus Brandsema told the group that he is planning to bring eggplant back into the growing mix.
Wood waste heating
While freesias and tomatoes seem a world apart, both growers rely on a local waste product to make their production cost efficient: hardwood sawdust. At Blokker and J. A Brandsema, large covered trucks deliver regular loads of sawdust, which is used to power furnaces that in turn assist production. At Blokker the heat from burning sawdust is used to power a boiler, which produces the steam used to sterilise the soil in the glasshouses prior to replanting.
Up the road at Brandsema, water heated by the furnace keeps cold-sensitive tomatoes at their ideal growing temperatures. The hot water runs through pipes between the rows of hydroponically grown tomatoes. The rails then double as rails for the trolleys used for picking. Despite the warm summer day, Marcus said he had been heating the glasshouses overnight in recent weeks.