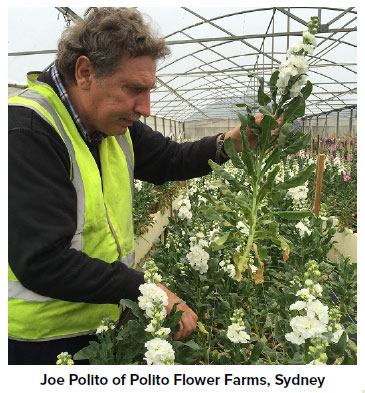 The history of the Polito family
In 1921 after WWII, Joe Polito' s great uncle came from Italy to North Manly on Sydney's Northern Beaches. What is now residential and shopping malls was then market gardens and he bought a small farm.
In 1949 Joe's father was sponsored to join his uncle and in 1950 four other family members followed suit. In the '60's the Poito's were the first Italians to build a factory in now industrial Brookvale and to this day the site is still a plant nursery and F&V market on Green Street.
Joe remembers when it took only 15 minutes to get to the central markets in Haymarket, before it moved to Flemington in 1975.
In 1978 Joe moved to Sydney's Hills District where he still has three flower farms in Kenthurst, Kellyville and Glenhaven still supplying wholesale to Flemington Markets half an hour away.
Going Hi-Tech
To Compete With Imports
Reputation for quality
Joe Polito has a reputation for quality and will take all unsold flowers back home and dump them. Happy customers make good business and freshness is guaranteed because all his flowers are grown locally and picked fresh the day the day before the market.
No imports
Joe is only one of a handful of flower growers who never supplement their flower supply with imports even including peak periods like Mother's Day or Valentine's Day.
The wide mix of flowers include dahlias, roses, stock, tuber rose, strelitzia (bird of paradise), freesia, ornamental kale, poppies, renucculus and irish bells among others.
Joe has his own family heirloom stock of dahlia tubers, rhizomes and bulbs which are lifted annually by hand, washed, dried and stored through winter at the appropriate temperature for each flower.
Other young plants are sourced from Highsun Express / Proptec Seedlings in Queensland.
Low tech to high tech growing system
Joe will soon fulfil his dream of growing on a single property he has just bought on the Hawkesbury Napean River with a new state-of-art high tech glasshouse. Other structures will also be built on site to suite specific flower crops.
He will also relocate and raise the height of greenhouse frames from existing sites and switch from 100% town water to treated dam and river water.
Member Profile Polito Flower Farms
AIS Greenworks will supply the Aqua Hort water treatment system and Grodan slow rockwool media filter which has 10,000 x the surface area of sand in the same volume.
The rockwool in the filter is not horticultural grade rather a specific mix of absorbent and repellent wool which filters for pathogen control.
Aqua Hort also releases a small amount of copper ions to provide a residual kill within the irrigation systems and root zone.
Currently Joe has a mix of plastic greenhouses, shade cloth and open field for his wide range of flower crops. Inside the greenhouse he has raised the plants on a two tiered stack of polystyrene boxes for easy access to tend the plants.
The top box contains a hydroponic mix of coconut coir, ash and bark in two distinct ratios to suit the various crops.
Excess run off filters through the lower polystyrene box filled with ash and then through a gravel bed covered with weed mating. A gentle slope then funnels the run off to a tropical flower crop that likes wet feet, below which is the dam.
Roses in rockwool ahead
Over the coming winter the existing rose greenhouse will be refitted to a Grodan rockwool system with steel gutter trays similar to tomatoes.
Protection from import competition
Next year the rose greenhouse will be upgraded again with the new glasshouse technology to grow niche products that do not import well.
Joe will then be able to react faster in the market with local high-end product. He can set and respond faster with new colours, new trends and compete with imports with his fresh, local product.
Joe's flowers are grown under Australian food safety, environmental and WH&S standards which customers' value.
The new property is less than hour from the central markets and will demonstrate a lot of firsts for the industry.
Joe has employed Mark Massey (formerly of AIS Greenworks) as Chief Agronomist and Business Development Manager to oversee and implement the upgrades. Also Anne Goddard (formerly of Hortraco) as Operations Manager.
Other flower crops will go in additional greenhouses and shade houses to supplement the range of flowers over time.
Next year we will document the new hi-tech facility in a follow-up article in Soilless Australia magazine.