When Kyalite Pistachios was considering a sustainable solution for disposal of the last remaining area of sprinkler irrigation at its 'Rivernook' orchard, plus extra poly and dripperline kept in storage from previous upgrades, the industry's leading recovery and recycling program largely became a "no-brainer''.
Pistachios are grown over 400 hectares on the Sunraysia property near Kyalite, which is situated on the southern New South Wales border near Tooleybuc and south of Balranald.
Plantings at 'Rivernook' commenced from the mid-80s, with later significant developments occurring over 2006-07, in 2016 and again last year, on the way to expanding the orchard to a 450ha capacity.
The pistachio trees produce a solid harvest from around six to seven years-of-age and mature yields from the age of 12.
Andrew Bowring, who has chalked-up 27 years with the Kyalite Pistachios partnership enterprise, said the last area of under-tree sprinkler irrigation was converted to dripperline earlier last year, resulting in 230 kilometres of 19-millimetre poly to be disposed of. This added to another 50km of poly and 20km of dripperline stored on the property since earlier conversions.
"We replaced some dripperline to reduce the output,'' Andrew said.
He said they converted to a complete Netafim dripperline and fertigation system, including filtration and irrigation control, which matched the dripperline used across the remainder of the orchard.
"It was on some heavier soil types, where we wanted to reduce the output. The spacing between the emitters and the output has reduced and it's working well.''
Similar to almond trees, the pistachios will receive 12 to 14 megalitres/ha over a season, incorporating daily irrigation and fertigation over summer.
Andrew said the new irrigation investment made the Netafim Recoil recycling program for the old poly and dripperline an easy decision.
The program incorporates hire of a Netafim Recoil machine for a fee of $100 per day, which recoils poly or dripperline into dense, donut-shaped bundles, and transport to Netafim's Australian recycling partners.
The high quality recycled resin, if suitable, is used in the production of Netafim's 'Regen' irrigation products as part of a closed-loop manufacturing system, or by other manufacturers of plastic products, providing a circular economy model to tackle unwanted plastic accumulating in the landscape.
The poly and dripperline from Kyalite Pistachios added up to 27 tonnes, with the resulting resin earmarked for plastics manufacturers.
"We always knew we wanted to do something linked with recycling, but previously there was no easy opportunity to get it off-farm,'' Andrew said.
"Sustainability is now a strong focus for the industry and it makes you feel good that you are doing the right thing and planning your pathway on a sustainability front.
"Netafim is well out in front in the industry with this program.''
He said without it, they were faced with hiring or building a machine to help dispose of the poly and dripperline that later would have sat in the shed, as well as finding a recycler in the market and paying for freighting it off the farm.
"With Netafim Recoil, the machine is purpose-built with all the guards, easing any concern with operators. That was our strong feel – this thing is just purpose-built and has all the procedures. It's very well done. We just had to pay the freight from farm to factory.''
"We recoiled the majority of the poly and dripperline in 12 days,'' Andrew said.
Netafim Recoil machines are based in areas where there is high demand for the service across Australia and are available to hire through approved Netafim resellers.
Netafim also tracks all consignments and recycling outcomes, culminating in a credible Certificate of Recycling for service users.
Media information: Rohan Howatson, Howatson PR, on 0407 428 459.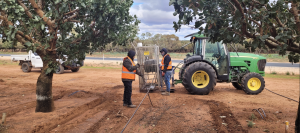 Pictured shows the successful recoiling of old 19-millimetre poly using the Netafim Recoil machine at Kyalite Pistachios' 'Rivernook' property, situated in the Sunraysia region near the southern New South Wales border.
Dense, donut-shaped bundles of poly used in a previous under-tree sprinkler system at Kyalite Pistachios' 'Rivernook' property are ready for collection and transport to Netafim's Australian recycling partners.
Poly bundles loaded to specific guidelines to ensure maximum transport capacity and easy recycler handling.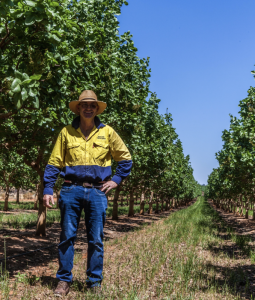 Andrew Bowring, Kyalite Pistachios, says without the Netafim Recoil machine to help dispose of poly and dripperline, they would have had to hire or build a machine that later would have sat in the shed, as well as find a recycler and pay for freighting it off the farm.