Meet the Researcher, Dr Sachin Chavan, Western Sydney University
Dr Sachin Chavan, what is your background in crop research?
My research has been focused on plant physiology and biochemistry, mainly in agriculture and horticulture. Currently I am concentrating on the use of a smart glass film in greenhouses.
My PhD investigated the responses of wheat photosynthesis and yield to elevated CO2 under heat and water stress at the Hawkesbury Institute for the Environment. My previous projects explored plant-pathogen interactions using advanced techniques in genetics, biochemistry and molecular biology.
What is the "National Vegetable Protected Cropping Centre" at Western Sydney University?
The National Vegetable Protected Cropping Centre (NVPCC) is a state-of-the-art 1800 sq. m. glasshouse designed with the world's very best infrastructure and climate control systems. It has eight temperature-controlled, individual research rooms in addition to one larger-scale teaching space.
What is its purpose?
The purpose of the NVPCC is to house research, education and training opportunities in modern protected cropping horticulture. We investigate strategies that can deliver real benefits to growers, such as; using smart glass coatings to reduce internal heat load and energy costs without affecting crop quality, optimising nutrient and water delivery and develop maximal planting designs to ease labour costs.
The NVPCC will flagship innovative solutions for national and international food security in an energy and water limited future.
It will also link education, training and research to product development and marketing opportunities, including exports via the Western Sydney Airport; and influence healthy consumption of nutritious fruits and vegetables.
How is the NVPCC going to help growers in the Australian protected cropping industry?
The NVPCC will provide an outstanding research environment, with training opportunities for growers and industry professionals, undergraduate and postgraduate students, and engagement opportunities with stakeholders and industry partners.
This will result in significant capacity to build the skills and labour force required to ensure the long-term sustainability of the protected cropping industry.
How is your current research funded?
The smart glass project has been funded by Hort Innovation, using the vegetable industry research and development levy and contributions from the Australian Government.
Hort Innovation is the grower-owned, not-for-profit research and development corporation for Australian horticulture.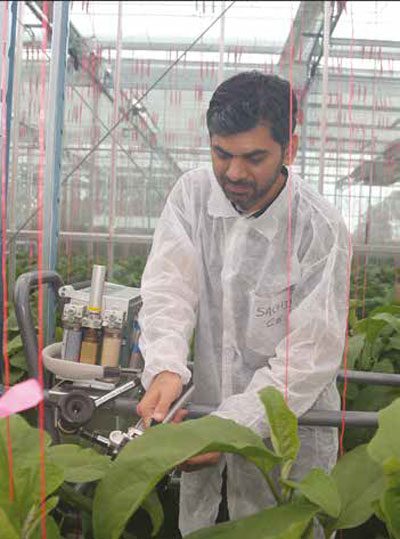 What is smart glass?
Smart glass is a new type of glass with a low thermal emissivity (low-e) coating, which is a layer of thin film deposited onto normal glass at a high temperature.
The low-e coating can block the heat that would otherwise be transferred through the glass, thus providing improved temperature regulation when compared to normal glass and plastic.
As a result, it requires much less energy to maintain optimal growth conditions within a greenhouse.
The aim of the research project is to assess the impact of smart glass versus current hazed glass on plant growth, physiology, crop yield and quality in a controlled CO2, temperature, nutrient and irrigation environment.
What the results so far?
The smart glass project is in its initial phase but we have finished our first experiment using eggplants.
The eggplants were grown in four glasshouse rooms; two with smart glass film applied to the hazed glass panels and two with the original hazed glass only.
We measured and compared various growth, physiology, productivity and quality parameters.
Preliminary findings show that smart glass can reduce the energy costs in the glasshouse, but it has also affected the productivity of the crops.
Meanwhile, the quality parameters tested showed no significant impact from the smart glass on eggplant fruit quality.
What happens to all that Grade 1 produce?
All the harvested produce is donated to Foodbank, which is a non-profit organisation that acts as a pantry to the charities and community groups who feed the hungry.
When might a commercial product be available?
The timeline to see the full impacts of the project is likely within 5-10 years.
The outcome will provide practical guides, costs and benefits reports, and scientific evidence for levied vegetable crop growers to reduce energy expenses through the use of innovative glass technologies.
What's next?
There is so much more to understand about cropping under smart glass!
Our early research suggests that the smart glass film may need alterations to optimise the light spectrum available for the plants to use.
There will need to be trials on crops other than eggplants, such as leafy greens and fruiting crops.
The interaction between the smart glass and crop management parameters will also need to be investigated.
You will be able to meet Western Sydney University staff at the Costa PCA Conference 2019 for more information on these innovative research and education packages.
For more information
www.westernsydney.edu.au
www.pca2019.com